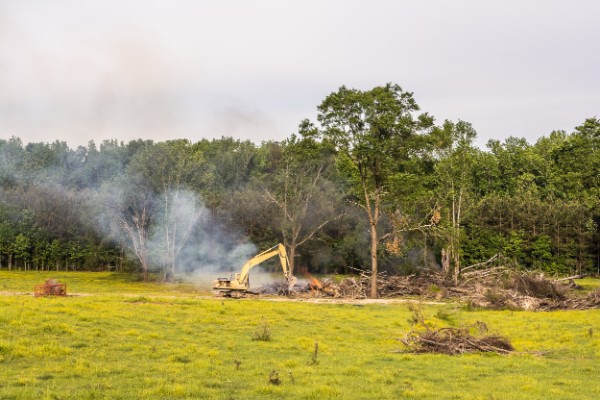 Residential and commercial property owners alike can greatly benefit from high-quality land clearing services, especially if they already own a large amount of land. Say, for example, you own a parcel of empty land that contains various trees, shrubs and undergrowth. If you plan to construct a building on that land parcel, you first need to remove this vegetation. This makes the help of land clearing companies a necessity.
Here are a few things to keep in mind about land clearing services in Stanly County, NC as you start thinking about your new construction project on your empty patch of land.
Leave it to the pros
All land clearing should be left to people with professional experience, much like other large-scale landscaping projects. It might seem easy to tear out shrubs and trees, but many property owners simply do not have the proper training or tools to get the job done both safely and efficiently.
If the project involves clearing away larger structures in addition to vegetation, then that project will also require some extensive excavation processes. You almost certainly do not have the equipment or skills needed to complete this sort of project yourself, so it's better to call in a team of professionals who can get the job done safely and reliably.
Obtain all necessary permits and paperwork
Before any land clearing activities begin, the owner of the property must check and see if there are any permits or paperwork that need to be completed and filed with the municipality. These permits give you legal permission to remove trees or other objects from the property, and also allow you as the owner of that property to dispose of the materials that are left behind once the land clearing processes have been completed.
A failure to comply with any permits or paperwork required by law in your area could result in you being subject to some hefty fines and sanctions. Plus, there's always the chance that a job that does not meet the standards required in these permits will be inherently unsafe.
Consider hiring a logging company
If you expect there will be a lot of lumber left behind from the trees cleared on your property, you might also find it worthwhile to hire a logging company. Spare lumber can be used for many purposes and can be useful either in the development of your property or other applications. You'll need to pay for the services of that logging company, but you might also be able to sell any wood that results from the clearing of your land.
Ultimately, hiring a professional team of land clearers is your best bet for a project, because you are guaranteed to have a team of experts who are more than capable of handling all the tasks associated with clearing your land. The pros will also be of great assistance in filling out all the necessary permits and papers before work begins.
Contact us today for more information about our land clearing services in Stanly County, NC.
Categorised in: land clearing
This post was written by admin